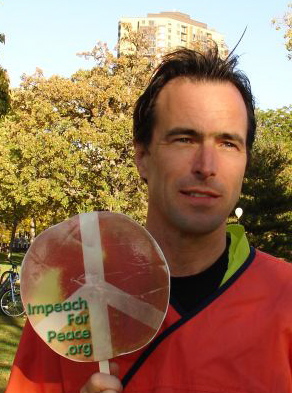 Friends of Impeach for Peace
Today I am writing with sad news about Mikael Rudolph, co-founder of ImpeachforPeace. Mikael had been struggling with cancer for some time and passed away last Friday.
Mikael was a talented mime, vaudevillian, and dance teacher. But the side of Mikael that those with Impeach for Peace saw, was that of a political activist. Mikael put great effort into opposing war crimes, resisting our country's torture policies, advocating for the end of the war in Iraq, and more. Through his efforts at Impeach for Peace, he not only found meaning for his life but also helped others to organize towards a better world. And, if Mikael had done nothing else, this would represent a worthy legacy.
Mikael was a good friend of mine, and I'll miss him dearly. My favorite memories are of his involvement in Patriots for Corporate Rights. He and several of our common friends satirized the corporate interests of our country in street protests and on radio. This brought Mikael the performer and Mikael the protester together. If you are interested in seeing or hearing some of those moments, you can find them at CorporateRights.org
Mikael's main political efforts went into Impeach for Peace (ImpeachForPeace.org) and World Can't Wait (http://WorldCantWait.org) where he held meetings, marched in the street, called radio programs, blogged furiously, organized protests, met with congressional leaders, handed out leaflets and anything else he felt might stir the pot. Mikael spoke of how his activist inspiration was due in part to his mother's legacy. She had fought for the rights of Japanese Americans interned during WW II.
Details of services being held for Mikael can be found at MikaelTheMime.com. I have included his obituary below.
I know that Mikael would have approved of my making following suggestion. If, in the coming days, the current political state of affairs frustrates you, or inspires you, take the time to act on it. Call or write a congress person, refuse to spend your money with big corporations, join a march–or start one! That's how I'll chose to remember and honor Mikael.
Jodin Morey
Cofounder, Impeach for Peace
MIKAEL JONATHAN RUDOLPH, 51, of Minneapolis (native to Bainbridge Island, WA) died peacefully in his home on February 26th following a courageous six-month battle with Therapy Related Acute Myelogenous Leukemia. Mikael was a beloved mime and vaudeville performer well-known to audiences at renaissance and fringe festivals, churches and schools nationwide. He taught swing, salsa and ballroom dance in the Twin Cities and was a political activist who co-founded Impeach For Peace and worked tirelessly with others toward political reform. He is preceded in death by cat Louie, sister Kristi, and parents John and Natalie. He is survived by brother James, nephew Zephyr, nieces Jamila, Rio and Trinity, great-niece Aliyah, cats Ash, Moxie and Jabo, and many friends who love him. Memorials preferred to Visitation Monastery of Minneapolis or RESCU Foundation. Memorial service details to follow at www.mikaelthemime.com <http://www.mikaelthemime.com>.