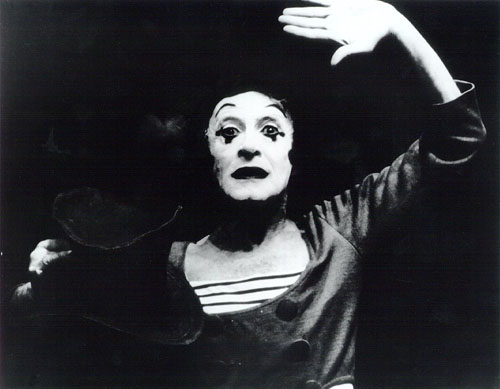 [You may or may not know that I am a mime artist, actor, ballroom dance instructor and spent parts of two summers studying with the great master of the art of mime: Marcel Marceau. I just sent this to a closed Yahoo Group comprised of students of our recently departed Master teacher.]
I have not yet been able to take the proper time to formulate an appropriate response that a loss of this magnitude merits.
I do, however want to encourage someone – anyone – to begin collecting these quotes and stories and collating them into a book from his students for eventual publication.
I will say briefly that for me there has not been so much a sense of loss – maybe because my relationship with Marceau was not one that involved personal communication, but was rather mostly as an infrequent student yet lifelong admirer and emulator. Perhaps it is also because Marceau for so long has lived in that universal place and communicated to all of us from there through his work and through his teaching which continued to echo in our minds and hearts long after each and every session with him had ended.
In my show at a Community College theater two nights ago in Worthington, Minnesota Marceau was momentarily very present – much like Rob Rivest mentioned earlier on this forum – and I suddenly thought:
At long last Marceau can view and enjoy and even subtly critique and guide each and every one of our performances and rehearsals simultaneously.
For this reason I smile through a gentle heartache when I think of his passing. He now lives completely in that world to which he has been so clearly and consistently referring as long as we have known him.
Much like the spiritual inheritance I clearly received from each of my parents in the months and years after their deaths six and four years ago, we can all expect to have gifts from our master teacher visited upon us – each lovingly crafted to most precisely further our unique branch of the magnificent tree that is the art of mime we embody together.
I eagerly await to see how Marceau lives, grows, develops and blossoms through each of you as his artistic and spiritual influence is more fully released through your souls into this world.
"Have I told you about the time I met Charles Chaplin?"
"I am Marceau… but he is Charles Chaplin!"
NPR Interview with my true mentor, Gregg Goldston, who was a long-time student and friend of and performer with Marceau