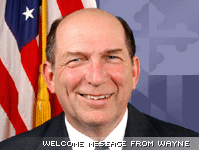 REALTIME NEWS
Department of Peace Bill Has Bipartisan Support in Congress

Maryland's Representative Wayne Gilchrest is First Republican to Support the Bill

HR 808, the proposed legislation to create a U.S. Department of Peace and Nonviolence, now has bipartisan support in the U.S. House of Representatives. Republican Congressman Wayne Gilchrest of Maryland joined 69 Democrats to support HR 808. He is currently the second Maryland Congressman cosponsoring the legislation, joining Democratic Representative Elijah Cummings.
"We applaud Congressman Gilchrest for reminding everyone that peace is not a partisan issue," said Wendy Greene, Managing Director of The Peace Alliance, the national, nonpartisan organization active in all 50 states that leads the growing grassroots movement to enact HR 808. "Local Maryland Department of Peace supporters made their voices known to Congressman Gilchrest, who then showed courage and vision with his decision to support this legislation."
Gilchrest, a decorated Vietnam War veteran, is regarded as a centrist Republican and recently urged the White House to re-engage diplomatic talks to resolve the Middle East crisis. "We are grateful for the leadership Representative Gilchrest has shown," Greene said. "And we are saddened to learn he will not be returning to Congress next year. We need more leaders like him."
If created, the Department will be headed by a Cabinet-level Secretary of Peace appointed by the President (with the advice and consent of the Senate), and will focus on expanding the nation's capacity to resolve conflict nonviolently, prevent violence by addressing its root causes, and promote justice and democratic principles to expand human rights.
Domestically, the Department will research, propose and facilitate practical, field-tested solutions to reduce and prevent violence. It will provide additional financial and institutional heft to strengthen and complement our current approach to violence, focusing on prevention through multi-layered strategies. These strategies include increased funding for local programs already proven effective at reducing and preventing violence. A Peace Academy, on par with the military service academies, will provide a four-year course of instruction in peace education after which graduates will be required to serve five years in public service in programs dedicated to domestic or international nonviolent conflict resolution.
Internationally, the Department will research and analyze foreign policy and recommend to the President ways to address the root causes of war. The Department will also provide expert advice to the President on nonviolent means of diffusing or dealing with international crises.
About The Peace Alliance:
The Peace Alliance is a nonprofit, nonpartisan organization leading a growing grassroots movement active in all 50 states to pass legislation to create a U.S. Department of Peace. The bill, HR 808, is currently co-sponsored by 70 members of the U.S. House of Representatives, including the original sponsor.
For more information on HR 808 and the campaign to create a U.S. Department of Peace and Nonviolence, please visit www.thepeacealliance.org.
< a href="http://newsblaze.com/story/20080716100748zzzz.nb/topstory.html">
---