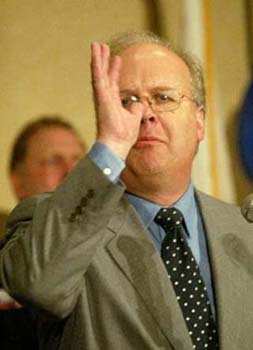 thewashingtontimes
Fishwrap

House Judiciary Chairman John Conyers, Michigan Democrat, threatened to subpoena Karl Rove, former deputy chief of staff for President Bush, if he continues to refuse to testify before Conyers' committee about the firing of former U.S. attorneys.
Here is the letter Conyers and several other members of the committee sent to Rove's attorney, Robert Luskin at Patton Boggs. (You can also view the letter Luskin sent Conyers yesterday here.)
May 1, 2008
Via Fax and U.S. Mail
Mr. Robert D. Luskin
Patton Boggs LLP
2550 M Street, N.W.
Washington, D.C. 20037-1350
Dear Mr. Luskin:
We were very disappointed to receive your April 29 letter declining the invitation to Karl Rove to testify voluntarily before the House Judiciary Committee concerning the politicization of the Department of Justice, including allegations regarding the prosecution of former Governor Don Siegelman. Particularly since your client has made a number of on-the-record comments on this subject to the media, and in light of your (now modified) statement that Mr. Rove would be willing to testify, we can see no justification for his refusal to speak on the record to the Committee. We urge you and your client to reconsider this refusal no later than May 12, or we will have no choice but to consider the use of compulsory process.
Mr. Rove has previously spoken to the media and on the record concerning both the Siegelman case and the firings of U.S. Attorneys in 2006. Your letter, however, offers to make Mr. Rove available only for a non-transcribed staff interview, not under oath, and limited only to the Siegelman matter. This offer is completely unacceptable.
Initially, an interview conducted without a transcript and not under oath would frustrate a full and fair inquiry. An interview without a transcript is an invitation to confusion and will not permit us to obtain a straightforward and clear record, as several of us have explained in response to a similar offer by White House counsel Fred Fielding in the U.S. Attorney matter. As Republican former Congressman Mickey Edwards has written, "[n]o Congress, indeed no lawyer, would ever agree to such an outrageous" proposal. We simply do not understand why anyone who is prepared to tell the truth would object to an oath and a record of what is said. This is particularly true in this case, where Mr. Rove has already spoken on the record on this subject.
Indeed, your proposal is even more restrictive than Mr. Fielding's offer, since you would explicitly exclude any questioning concerning the U.S. Attorney firings. As your own letter appears to recognize, the Siegelman and other selective prosecution matters and the U. S. Attorney firings are clearly related as part of the concerns our Committee has been investigating on the politicization of the Justice Department under this Administration. It would further impede our inquiry to seek artificially to separate these issues. We can see no reason why Mr. Rove would be willing to testify as to whether he put improper pressure on a federal prosecutor to bring a prosecution, but would not be willing to testify on whether he improperly sought to retaliate against federal prosecutors by having them fired.
Your letter also raises concerns about possible executive privilege claims with respect to Mr. Rove's testimony. The proper way to address such concerns, however, is on a question-by-question basis as current Administration officials have done in testifying before the Committee, not by a blanket refusal to testify.
We hope you and your client will reconsider the decision not to testify on a voluntary basis. Please direct any questions and your response to the Judiciary Committee office, 2138 Rayburn House Office Building, Washington, DC 20515 (tel: 202-225-3951; fax: 202-225-7680).
Sincerely,
John Conyers, Jr.
Chairman
____________________________________
Linda T. Sanchez
Chair, Subcommittee on Commercial and Administrative Law
____________________________________
Artur Davis
Member, Committee on the Judiciary
____________________________________
Tammy Baldwin
Member, Committee on the Judiciary
cc: Hon. Lamar S. Smith
Hon. Chris Cannon
"" Carrie Sheffield, Web editor, The Washington Times