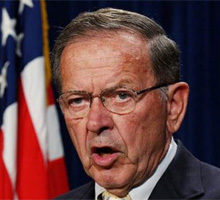 Politico
The Crypt blog

Ted Stevens indicted
Sen. Ted Stevens (R-Alaska), a giant of Senate politics and a legend in Alaska, has been indicted on seven criminal charges.

The Department of Justice has announced a 1:20 p.m. ET press conference to discuss the details. Stevens' Washington office is shut down right now and no one is answering phone calls, and a spokesman in Alaska declined to answer questions. The Associated Press is reporting that the criminal charges are related to false reporting of hundreds of thousands in renovations to his Alaska resort home.

The indictment would be a stunning development in an extraordinary Senate career that has spanned four decades. Stevens is undoubtedly the most powerful politician in Alaska's 50 year history of statehood, but his relationships with contractors and lobbyists have come under intense scrutiny over the past year.


Sen. Daniel Inouye (D-Hawaii), a longtime Stevens friend, said he wasn't surprised by the news because Stevens has been under investigation for so long. He said, however, that he believes Stevens is innocent.

The indictment comes almost one year to the day after the FBI raided Stevens' home in Girdwood, Alaska, searching for evidence related to the home renovations performed by VECO, an Alaska oil company. The Stevens indictment is undoubtedly the biggest news to hit Alaskan politics in years. Stevens' son Ben has also been swept up in a corruption scandal.
Other senators also responded with caution. "I need to learn more of the facts before I comment," said Sen. John W. Warner (R-Va.).
---