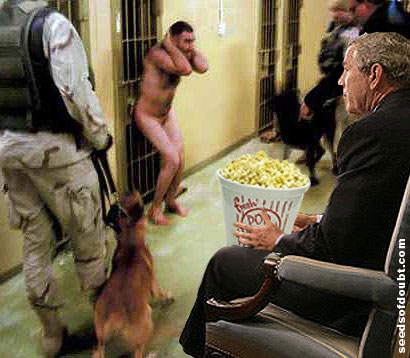 Rawstory — Nine years ago today, the Bush administration decided that international law does not apply to prisoners of war. It was a watershed moment in US history, resulting in a policy of torture that pervaded and darkened the Bush years, and inflamed anti-American sentiment abroad.
To mark that grim anniversary, two men who claim to have been victims of torture filed official complaints in Geneva, Switzerland, seeking a ruling on universal jurisdiction.
If the court sides with their complaints, US President George W. Bush likely would not face arrest; he would not, however, enjoy free travel around the world.
That was evidenced over the weekend, when the media speculated on why the former president canceled a trip to Switzerland. Bush was to be the keynote speaker at Keren Hayesod's annual dinner on February 12 in Geneva.
While Swiss officials said that Bush would still enjoy a certain diplomatic immunity as a former head of state, the local political climate posed a greater threat of repeating the riots Geneva saw during the G8 summit in Evian.
The complaints, officially lodged Monday, ask the General Prosecutor of the Canton of Geneva to investigate evidence of a torture policy within the Bush administration.
---